ROBOFIX Positioning system for flange pipe / template pipe manufacturing
ROBOFIX Positioning system for flange pipe / template pipe manufacturing
Automated fitting pipe production
When manufacuring pipes with flange connections the planes and hole patterns of the flanges at the ends of a flange pipe or a template pipe must exactly correspond with the flanges of the pipes on the jobsite where the additional pipe has to be inserted. Already small deviations can prevent the template pipe to be mounted correctly into the existing pipe network.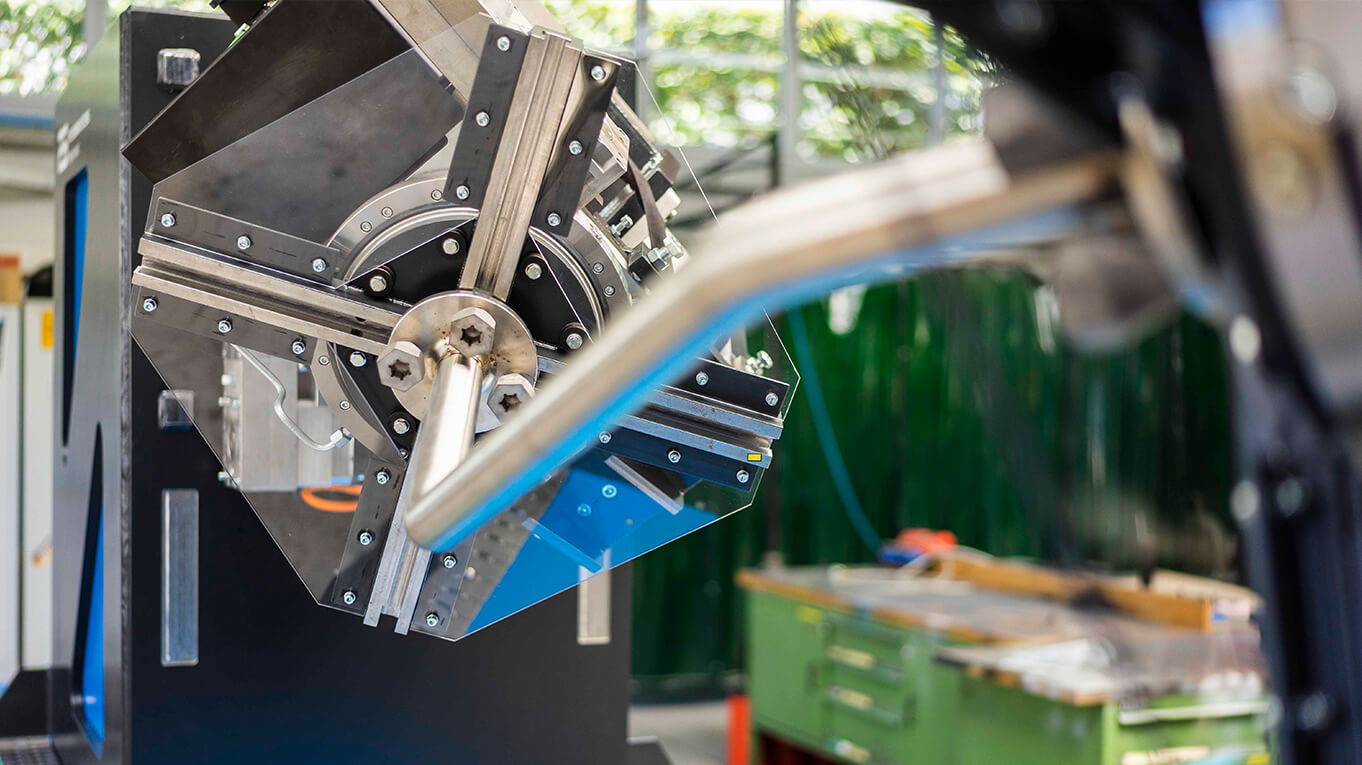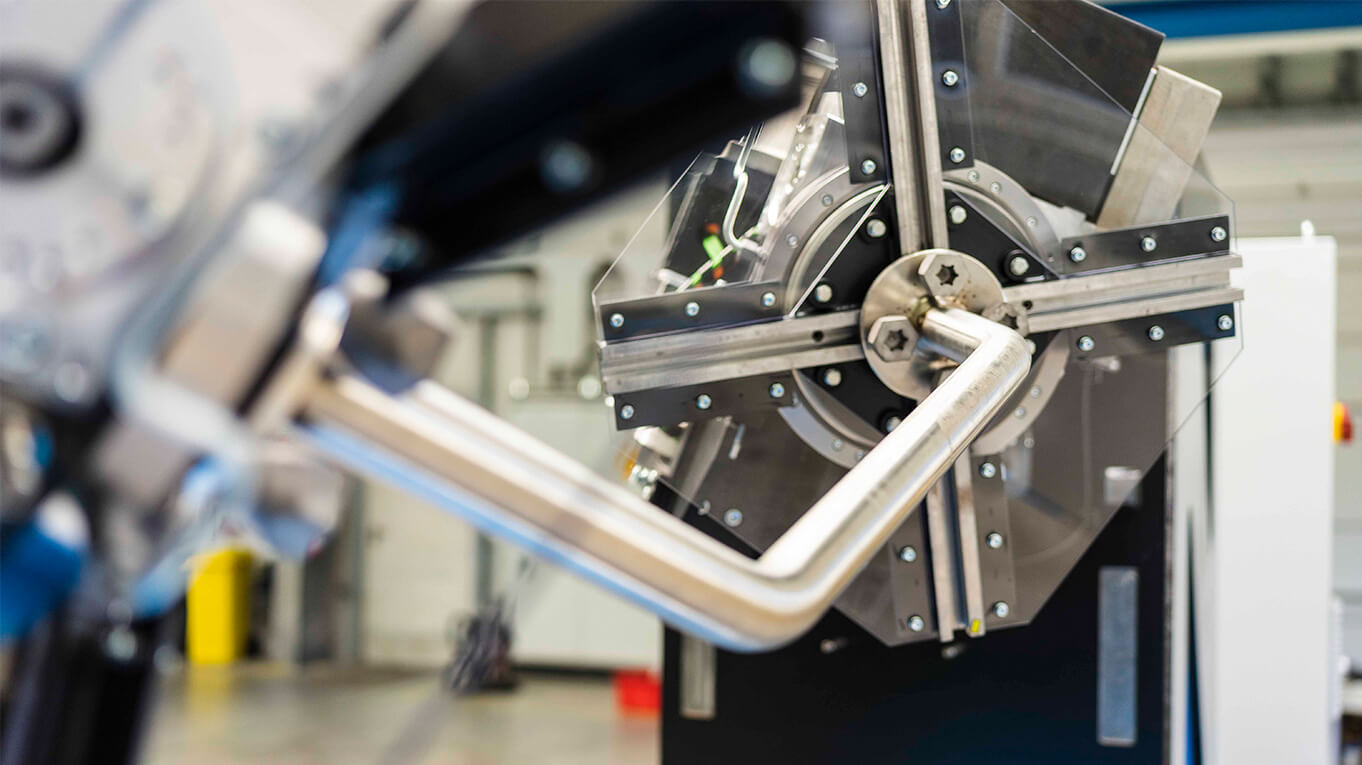 Insight ROBOFIX
Pos­i­tioning system for flange tacking of fit­ting pipes in the cor­rect position
By means of the ROBOFIX System the pos­i­tion of the flanges can be pre­cisely sim­u­lated at the work­shop, so that the dis­tance and align­ment of
the flange planes and the hole pat­tern cor­res­pond exactly to the actual install­a­tion situ­ation on the con­struc­tion site. Pos­i­tioning of the flanges can be executed using the geo­met­rical data pre­vi­ously gen­er­ated on site through iso­metric sketching by the SCOPELINK meas­uring system. The required pipe can be pro­duced by an assembly of seg­ments or by bending, it has to be posi­tioned between the flanges and fixed to them by tack-welding. The quality assur­ance of the whole oper­a­tion is car­ried out by the ROBOFIX System which con­trols con­tinu­ously the accuracy of flange pos­i­tions and pipe courses.
The pipe, man­u­fac­tured from seg­ments or by bending, is posi­tioned cor­rectly between the flanges and joined to them by tack welding. The ROBOFIX system ensures the quality of the entire fit­ting pipe man­u­fac­turing pro­cess, as com­pli­ance with the flange pos­i­tions and pipe routing is con­stantly monitored.
After welding the flanges on a Welding sta­tion, the com­pletely pre­fab­ric­ated fit­ting pipe can be taken to the con­struc­tion site, where it can be per­fectly integ­rated into the piping system.
Sophia Kim Börner
You have ques­tions about our pipe pos­i­tioning system ROBOFIX? I will be happy to answer them for you!
ROBOFIX Pos­i­tioning system for flange pipe / tem­plate pipe manufacturing

Increased flex­ib­ility
Growing system

Risk reduc­tion

Cost reduc­tion
ROBOFIX DN 400 in numbers
| MASCHINENTYP | ROBOFIX DN 400 | ROBOFIX DN 100 | ROBOFIX DN LIGHT |
| --- | --- | --- | --- |
| Max­imum travel of the gantry | 400 — 2000 mm | 300 — 1600 mm | 300 — 1600 mm |
| Pos­i­tioning accuracy of the gantry | ± 0,1 mm | 0,05mm | - |
| Max­imum pipe weight | 400 kg | 48 kg | 25 kg |
| Rota­tion of the 3D flanges | ± 90° | ± 90° | ± 90° |
| Pos­i­tioning accuracy of the 3D flanges | ± 0,1° je Freiheitsgrad | ± 0,05° je Freiheitsgrad | - |
| Flange adapters | DN40 — DN400 | DN25 — DN100 (DN125) | DB25 — DN 100 |
| Dimen­sions, approximately | 7200 x 1300 x 2200 mm | 5500 x 1000 x 1800 mm | 2300 x 620 x 800 mm |
| Weight, approx­im­ately | 8000 kg | 4000 kg | 250 kg |
| Con­nected load | 16,0 kW | 19,0 kW | - |
Hoch­präzise räum­liche Pos­i­tionierung der Anschlussflan­sche für ein Passrohr ents­prechend der vor Ort aufgemessenen Einbausituation
unter Ber­ück­sich­ti­gung von Winkel­lage und Lochbild
Direkt Über­nahme der mit dem SCOPELINK Iso­met­ri­er­system ermit­telten Positionierungsdaten
Tra­verse mit präziser Lin­ear­führung, über Ser­vo­motoren angetrieben
3D Flan­sche mit halb­ku­gelför­miger Aus­rich­tung, über Ser­vo­motoren angetrieben
Hydraul­ische Fest­s­tell­bremse zur sicheren Fix­ierung der Einbaulage
Ver­fahrbares Bedi­en­pult mit Steuer-PC, vor­instal­lierter Steuer- und Visualierungs-Software
Integ­rierte Kollisionskontrolle
ROBOFIX DN 100
ROBOFIX Light